Further Information
Wild Atlantic House sleeps 8 people, in 5 bedrooms and has 4 bathrooms
Traditional Farmhouse
It is an authentic old farmhouse, with some vintage furniture. The house is a good example of the best of the old, blended with the best of the modern world. While the kitchen and bathrooms are new, the house still retains many of its old fashioned features, including the original 1890s staircase.
Garden
There is a garden to the front and to the rear of house. The garden furniture provides seating & table for 12 people to enjoy a meal outside and there are other garden chairs as well as a small circular garden table. For railways enthusiasts, there are two railway lines in the garden, once part of the Tralee and Dingle Light Railway, which closed in 1953.
Parking
There is plenty of off road private parking for at least 4 cars, in front of the stone barn.
Electric Vehicles
We recently installed a 7kW Type 2 Electric Vehicle charger. It is available to our guests upon request. The tethered Type 2 connector is compatible with most modern EVs.

Pets Allowed
Well behaved pets are allowed, provided they travel with their own bedding and that all pet hairs are removed from the house before the next visitors arrive. Not all our guests like animals.
Barn – Suitable for Yoga and for artists
The stone barn is attached to the house and it provides loads of storage space for kayaks, canoes, fishing rods, surf boards, diving equipment, bicycles etc. The barn is contains childrens' buckets and spades, beach balls, body boards, shrimping nets and more for your use. Upstairs there is a long full length room, with wooden floorboards. It is appreciated by our visiting artists and yoga enthusiasts.
Digital Detox
There is no TV, DVD player or WIFI. This is appreciated by most of our guests. There is 3G mobile phone reception. There is a radio, tape/CD and a gramophone/record player.
Character
The house dates from the 1890s, has lots of space and is full of character. It is our philosophy to upgrade, recycle and reuse whatever we can within the house. We do not buy new just for the sake of it. We do, however, make an exception when it comes to providing important modern conveniences for our guests' use and comfort. The house is our family holiday house, it is not wheelchair friendly and is not suitable for those with mobility problems. It is suitable for older children, but not for those under the age of five and because of its original features, it may not be desirable for all.
Barbeque
A large solid steel fire pit with tripod and associated fittings is available for your use, this only burns timber. There is also a small barbecue which runs on charcoal. Try barbecueing locally reared, mountain lamb on it – wonderful flavour, once eaten never forgotten! Or freshly caught mackerel from Brandon Bay.
Heating
There is heating (electric, solar and 2 useable fireplaces) in the house, but this is not the house for you, if you require a really hot house, as the house has single glazed wooden windows and other quirky features. However, it is still suitable for the romantic winter weekend, with its open log fires. Lots of hot water bottles provided.
Fuel
A plentiful supply of turf, logs and fire lighters, are supplied for your first night, for both downstairs fireplaces.
Bedrooms and Bathrooms
There are 5 bedrooms: 2 twin bedrooms with sea and mountain views, 2 double rooms (queen sized beds) with views across the adjoining hilly pastures, and a single bedroom with a view of the sea and mountains. There are 3 bathrooms upstairs, 2 with showers and one with a cast iron bath. There is a wet room, downstairs, with a shower. All the bathrooms are a generous size and all have windows.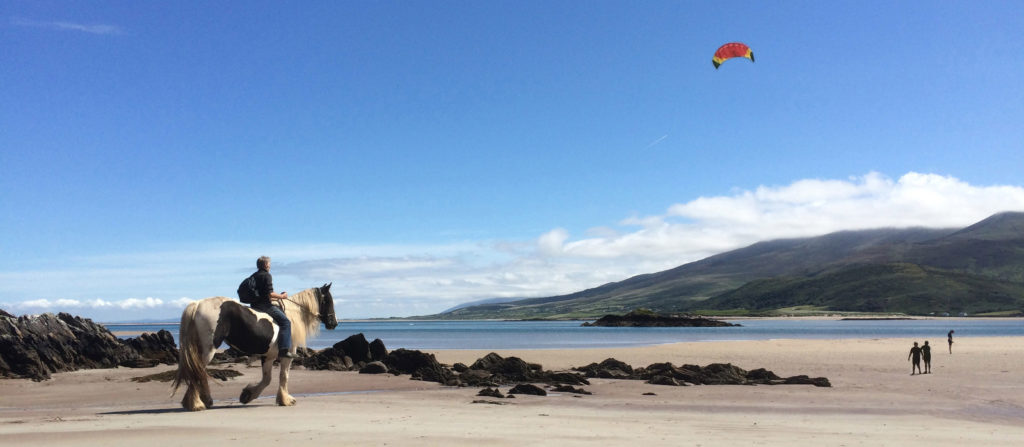 Linen
An ample supply of towels (including plenty of beach towels) and linen are provided. Because there are so many beds (7) in the house, we ask that guests make up their own beds on arrival. Making up so many beds is more than we can manage.
Essentials
The family friendly Wild Atlantic House comes fully supplied with a well equipped kitchen with microwave, toaster, dishwasher, fridge/freezer, fish kettle and much more. We usually have tea, coffee, sugar, cooking oil, flour, pasta and some other basic food stuffs in the house for your use. Also, there are hair dryers, an iron, ironing board, vacuum cleaner, shampoo, soap, first aid kit, smoke detectors and an extensive house manual containing safety instructions, further information regarding the house and the locality. The utility room has a clothes washing machine, clothes dryer and there are clothes lines, both inside and outside.
Shopping
There is an excellent village shop in Cloghane (2.2km). A good supermarket in Castlegregory (18km) and several more in Dingle (a 20 minute scenic drive). Evening meals are served in the pub in Cloghane.
---
Get in touch with us:
Contact: Caro
Email: holiday@wildatlantichouse.com

Follow us on Instagram: @wildatlantichouse