Experience the Irish Wild West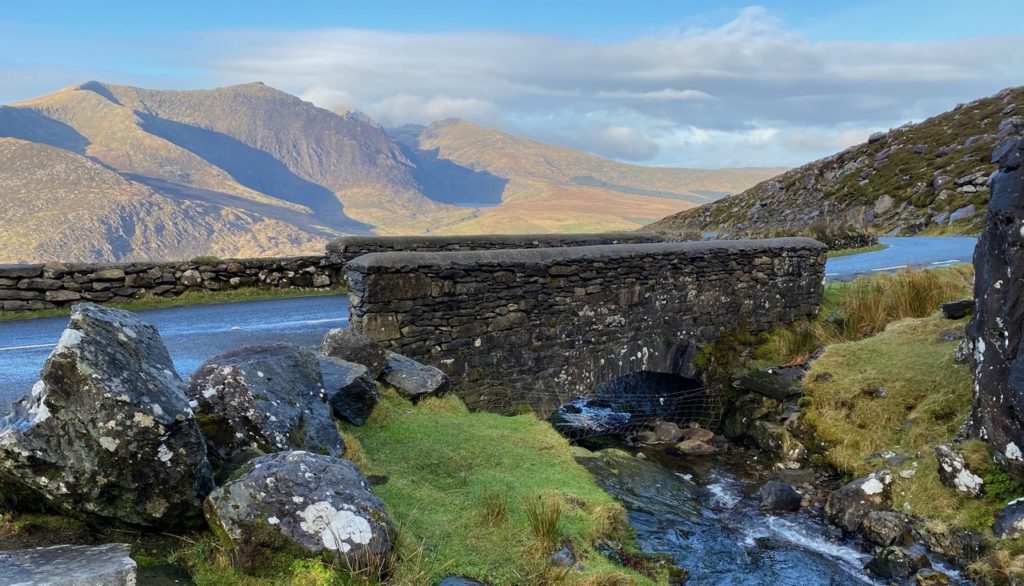 Walking
Wild Atlantic House is situated alongside the well known Dingle Way Walk, at the foot of Mt. Brandon, a pilgrimage site for thousands of years. The choice is endless and there is a walk to suit every level of ability. You will find maps and lots of further information in the house.
Cycling
We do not provide bicycles, but you are welcome to bring your own (as we do), alternatively you may rent them in Castlegregory. Bicycles may be stored in the stone barn. The challenge is to cycle the Conor Pass, Dingle, Annascaul, Camp 75 km circuit (1,073 metre elevation gain) and/or the Conor Pass, Feohanagh, Ballyferritter, Slea Head, Dingle 90.5 km circuit (1,501 metre elevation gain). There are maps in the house with other local less challenging cycling routes.
Organised Water Sports
Sandy Bay, Castlegregory (18km) caters for ages 6 to 86. Groups go on the banana boat, water trampoline, boogie boarding, canoeing and paddle boating. Wetsuits etc all supplied. Or you may prefer to go to the power boat school and take an Irish Sailing Association course.
Surfing, Wind Surfing, Kite Surfing & Body Boarding
Some of Ireland's best surfing may be found at Fermoyle (7km), Maharees & Castlegregory (18km). Learn to surf at one of the Castlegregory surfing schools. Try wind surfing or kite surfing.
Beaches
There are 5 different beaches within 15 minutes drive of Wild Atlantic House. The closest one is a 10 minute walk from the house, they all have something different to offer and all have spectacular views. The house is well equipped with buckets, spades, shrimping nets, body boards and more, for the use of the whole family.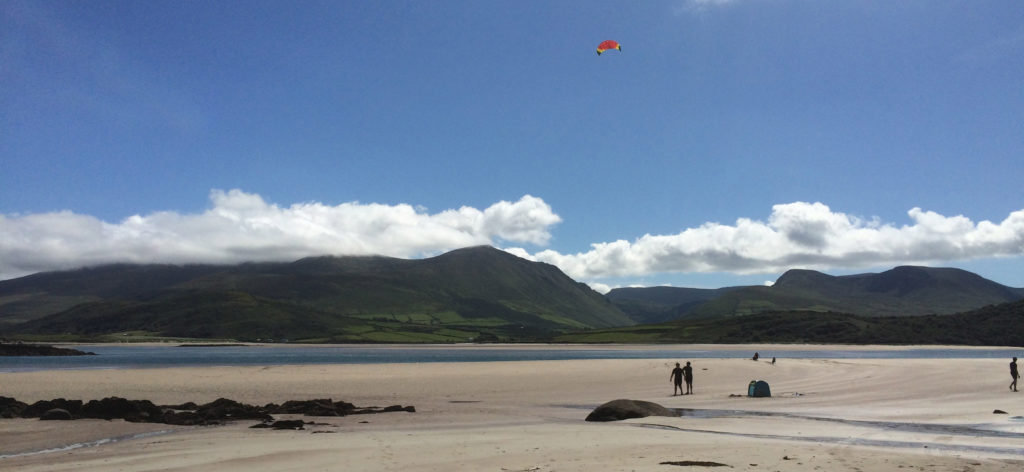 Wild Swimming
There are wonderful opportunities for wild swimming, both in the Atlantic Ocean and in remote pristine lakes. Whether in sea water or in fresh water, you will be surrounded by majestic and mesmerising scenery. You will rejoice in being alive, better than any spa experience and it costs nothing.
Diving
Brandon (3.5km) offers some of Ireland's best diving sites, where the mountain ranges drop down to meet the sea on the Brandon Cliff Face, the Maharees and the Blasket Islands. PADI courses available near Castlegregory (18km).
Pier Jumping
Try your hand at the local sport of pier jumping at Brandon (3.5km), not for the faint hearted.
Fishing
Bass, flounder, mackerel, coalfish, mullet, plaice, pollack, turbot, wrasse, sea trout and much more are all caught locally. The closest beach is a popular sea fishing spot. Permits are available in Cloghane for the nearby Owenmore River: salmon and sea trout fishing.
Foraging
Forage for cockles, shrimps, mussels, periwinkles, wild strawberries, blackberries, edible seaweed and more.
Bird Watching
There is exceptionally good autumn bird watching from Brandon Head, when the seasonal migrations take place. A colony of choughs live here. At nearby Lough Gill, winter is best, with whooper and mute swans, teal, tufted duck, scaup and cormorants. In summer, Brandon pier is the place to watch the gannets fishing – a delightful sight.
Dolphin Spotting
There is a famous dolphin over the hill in Dingle Harbour, but you have a good chance of seeing a pod of dolphins in Brandon Bay, adjacent to Wild Atlantic House. You may also spot seals and other exciting marine mammals locally.
Boating
The pier in nearby Brandon (3.5km). is suitable for launching boats or you may rent one.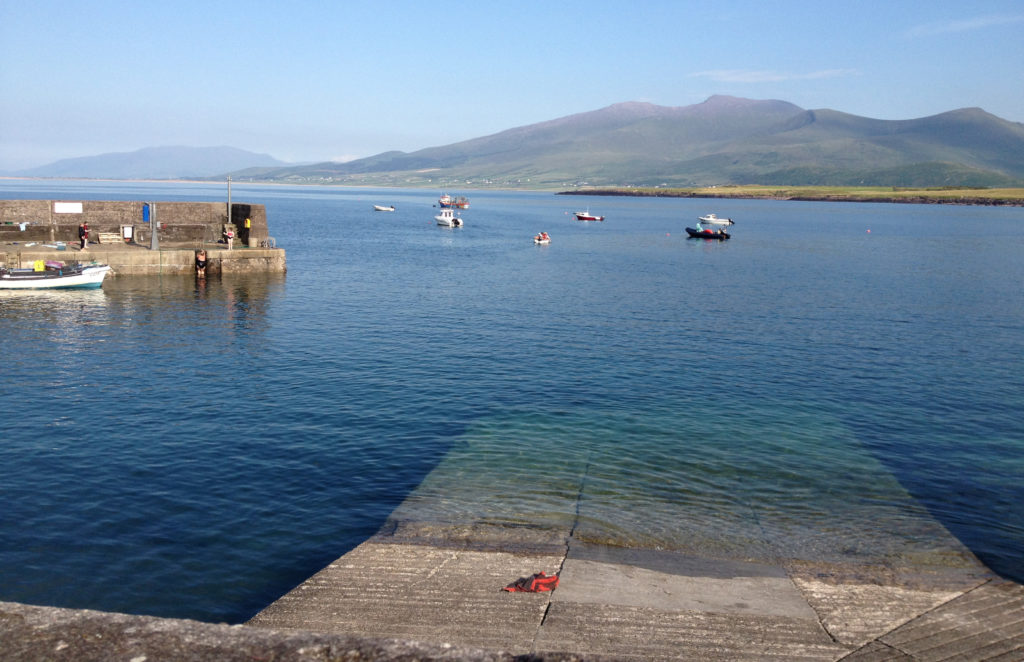 Eating
The shop in Cloghane (2.2km) is stocked with local artisan food and is associated with an award winning bakery. It also acts as a local tourist information centre.
The farmers' markets in Dingle (17km) and Castlegregory (18km) are worth a visit. Eat out in the local pubs in Cloghane or Brandon (3.5km) or visit one of the top class restaurants in Dingle.
Buy a Mountain Reared Sheep/Lamb
Buy a naturally reared lamb for your deep freeze, straight from the herb rich, slopes of the Mount Brandon Nature Reserve (almost adjacent to Wild Atlantic House). The flavour of the exceptionally juicy meat reflects the wild, unspoilt environment – a special area of conservation, on which sheep continue to be farmed using age-old, slow and traditional methods.
Drinking
Try out the Guinness and the Kerry craft beers, in the pubs of Brandon and Cloghane and if you are lucky, there might be some live music as well. Also, try the locally produced Dingle Gin, Dingle Vodka and Dingle Whiskey.
Traditional Irish Music & Story Telling
At Tintean Ceoil, Ballyquin, enjoy traditional Irish music and stories.
Festivals
Dingle Peninsula Storm Festival (February), St. Patrick's Day Parade at dawn (March), Dingle Film Festival (March), Cloghane Walking & Music Festival (Easter), Cloghane Lughnasa Festival (July), the Dingle Pony Races (August), the Brandon Regatta (August) for traditional boats and the Dingle Food Festival (October), Dingle Literary Festival (November), New Year's Eve Fireworks and Parade in Dingle (December) and many more.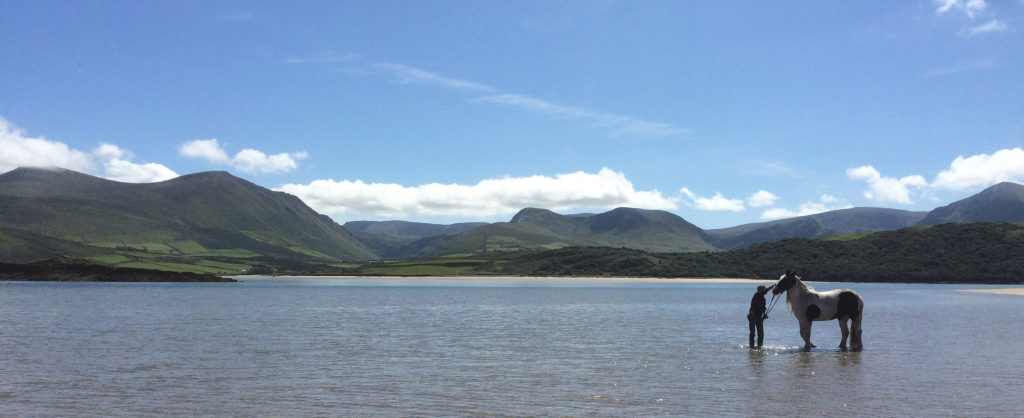 Visit The Blasket Islands
The house may be used as a base for a day trip to the Blasket Islands, one of the most westerly places in Europe or for a visit to the Blasket Centre (32km).
Whale Watching
The peninsula is home to and is regularly visited by several species of dolphins, seals and basking sharks. Minke, humpback, orca and fin whales are seen off and around the coast of the Dingle Peninsula. There are eco marine trips from Ventry and Dingle. Also, keep an eye on the sea, for visitors to Brandon Bay.
Irish Speaking
Improve your Irish. Wild Atlantic House is in a Gaeltacht area. You will hear Irish spoken locally and you will be encouraged to give it a try.
Dingle
Visit Dingle (17km) for its shops, restaurants, tourist office, harbour and acquarium, only 20 minutes drive away.
Scenic Drives on The Dingle Peninsula
The house is situated a few meters off the Wild Atlantic Way. The Slea Head drive, Brandon Point and Conor Pass (one of Ireland's highest roads) are nearby parts of this famous route. Also, visit Glenteenassig Forest Park, not far from Castlegregory for fabulous and different scenery.
Horse Riding
There are several riding centres around the Dingle Peninsula, bringing trekers through spectacular scenery.

Dark Skies for Astronomy
There is a vintage 1970s astronomical telescope for your use. You can avail of the lack of light pollution and see the Milky Way, in all its glory.
Storm Chasing
If you are lucky, you might catch one of the spectacular winter storms rolling in from the Atlantic, along with waterfalls pouring down the mountain sides and vast sea waves.
Golf
There is a links golf course at Stradbally (12km), near Castlegregory. A 5876 yard par 68 nine-hole course.
Painting
Many artists have their homes and studios in this scenic locality. There is a full scale, good quality, large artist's easel in the barn, available for use by those who are serious or not so serious, about their painting. In addition there are watercolours, pencils, paper for those who wish to sketch or simply doodle.
Board Games, Cards, Jigsaws, Record Player & Books
The house has a good selection of popular board games, jigsaws, playing cards and books suitable for all ages to enjoy. There is a gramophone/record player (plays 78s, 45s and 33s), a tape/CD player and a radio.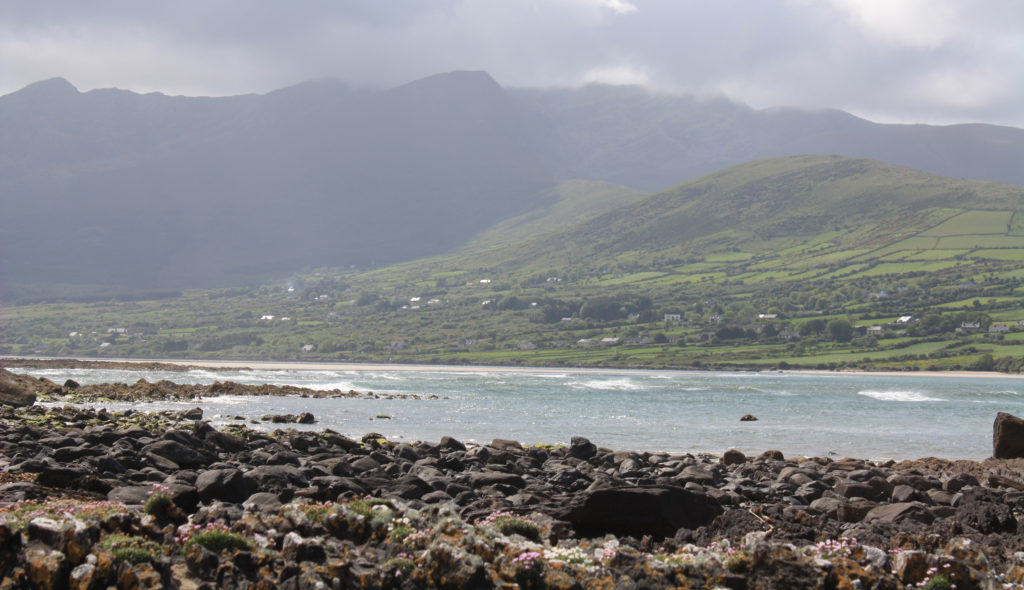 Nature
The rare Natterjack toad breeds at Lough Gill and in the surrounding area, worth a visit on a fine summer's evening.
Archaeology
The high density of a wide variety of archaeological sites, hill forts, ogham stones, standing stones, early Christian sites and ringforts make the Dingle Peninsula particularly rewarding for those who have an interest in archaeology.
Botany
Follow in the footsteps of the Irish botanist, David Webb, who once stayed in Wild Atlantic House. Unusual and rare wild Lusitanian flora are found in the surrounding area, along with carnivorous plants like butterwort and sundew.
Geology
The geology of the Dingle Peninsula fascinating. The famous nineteenth century geologist, John Ball, refined his theory that there had been an ancient ice age, when he compared the Dingle peninsula corrie lakes to the better known Swiss ones. There are cliffs, waterfalls and lakes all awaiting your discovery.
Kerry Diamonds
Try hunting for Kerry Diamonds (quartz crystals) at nearby Brandon Head.
Picnics
The house is stocked with picnic baskets, thermos flasks, rugs and a volcano kettle, all available for your use for an old fashioned picnic.
Escape
Wild Atlantic House is a discrete retreat for couples, who wish to escape the pressures of city life, to enjoy the romantic cosy parlour, the old fashioned ambience and open fires. In addition to, candlelit meals in the dining hall.
In Winter
Activities will vary depending on the weather, which may be surprisingly good, or surprisingly dramatic in winter. Our more adventurous winter guests enjoy high Atlantic ocean waves, bird watching (barnacle geese are often on our nearest beach, in winter), surfing, body boarding, walking, cycling and exploring the rich archaeological heritage of the area.
---
Get in touch with us:
Contact: Caro
Email: holiday@wildatlantichouse.com

Follow us on Instagram: @wildatlantichouse